Gordon and Angela Atkinson self-funded a visit to Timboni School in October 2018 to see how work is progressing in a number of different areas that your funds have supported. This is their report:
MAKING A DIFFERENCE
Our most important 'bring home message' is that the school is doing really well.
MAKING A DIFFERENCE
Our most important 'bring home message' is that the school is doing really well.
Teaching and Learning:
The amount and quality of teaching is continuing to improve and is having a very real and tangible positive impact. The pupils are motivated and eager to learn; the teaching staff are equally motivated and keen to teach.
We met the new Head Teacher and all of the teachers at least briefly. We spent much more time with the four "nursery" teachers who are Madam Jane (the lower school lead) and her team of Loice, Margaret and Agnes.
What is clear is that the 320 pupils are learning well and doing well. As we looked around, all the classes were fully engaged, teachers were working enthusiastically with their pupils.
There is a real buzz about the school and at lunch break it was heart-warming to be greeted by so many joyful children happily playing or coming to meet us to say JAMBO.
We were at school at 6:45am one morning watching the children arrive, most having walked some distance. Many of them brought sticks for the fire which is needed in the cookhouse to provide a hot breakfast and lunch. Again, the children were happy and enthusiastic about starting a new day.
Your support IS making a difference to individual children, to their families and the community and everyone at school asks us to pass on their appreciation.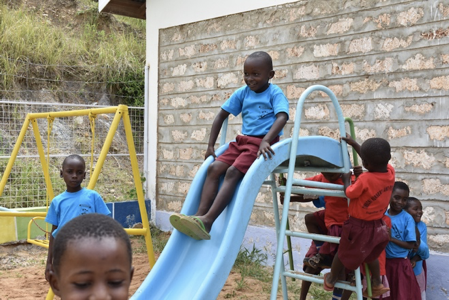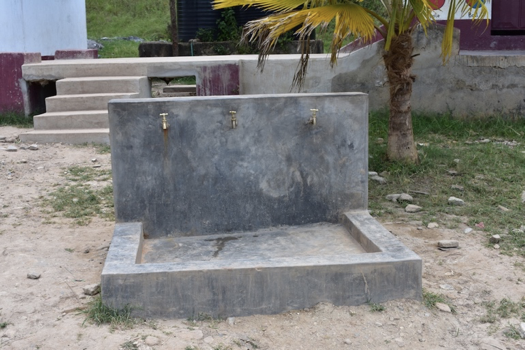 Hand washing and sanitation
The concerns raised during the February 2018 trip regarding the drinking tap and wet ground area has been addressed.
The single tap has been replaced with a tap station with waste water fully drained away. The improvement has also seen the waste water from the kitchen area drained away too.
Further, a 'bridge' has been built between the classroom walkway and the kitchen improving safety and hygiene for both children and staff. This is all a big improvement and has fully removed the wet area, thus reducing the breeding ground for mosquitos and other diseases whilst deterring animal visits.
(A possible project to add a covered area with tables behind the new 'bridge' is being considered.)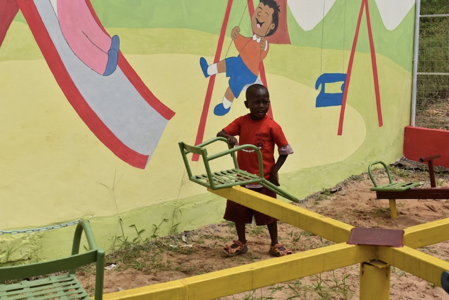 Nursery play area
Since our last visit in February, a new play area has been established and is now fully completed and well used. It is supervised by teachers and we saw the younger children having a great time; having some fun at school is a good thing!
Thanks to some additional generous funding the main school land has been transformed into a flat playing field. For those who have not seen the previous area it was very rocky and undulating on many levels. (The whole school area is built on the site of an abandoned stone quarry.)
Whilst the main area has been completed and a large flat area fit for play is soon to be available once the grass grows, there are still some parts to be completed. Due to the rocky nature of the ground the work was considerably more difficult to complete than expected and available funds have been used up. The local community are exploring ways to have all the work completed.
This is another significant development for the both the school and the wider Timboni community.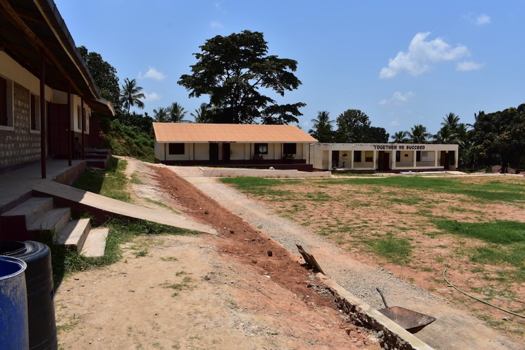 Funding plans for 2019
The school has presented a budget for 2019 covering nursery school costs, provision to support part of the feeding programme and additional teaching staff. Trustees are committed to supporting the school during 2019 and have approved this budget.
Other funding possibilities are still under discussion and decisions will be taken as and when appropriate.
Mosquito nets
Some further donations have already been received towards mosquito nets and we will arrange with Madam Jane, head of the pre-primary section, to ensure the new class who enrol in January 2019 are supplied with nets.
(You may like to consider holding a Mosquito Drive to help "drive out mosquitoes". This works just like a beetle drive and all funds raised will be used to continue to supply mosquito nets to Timboni pupils and their families. This is especially poignant after a pupil died from malaria in 2018.)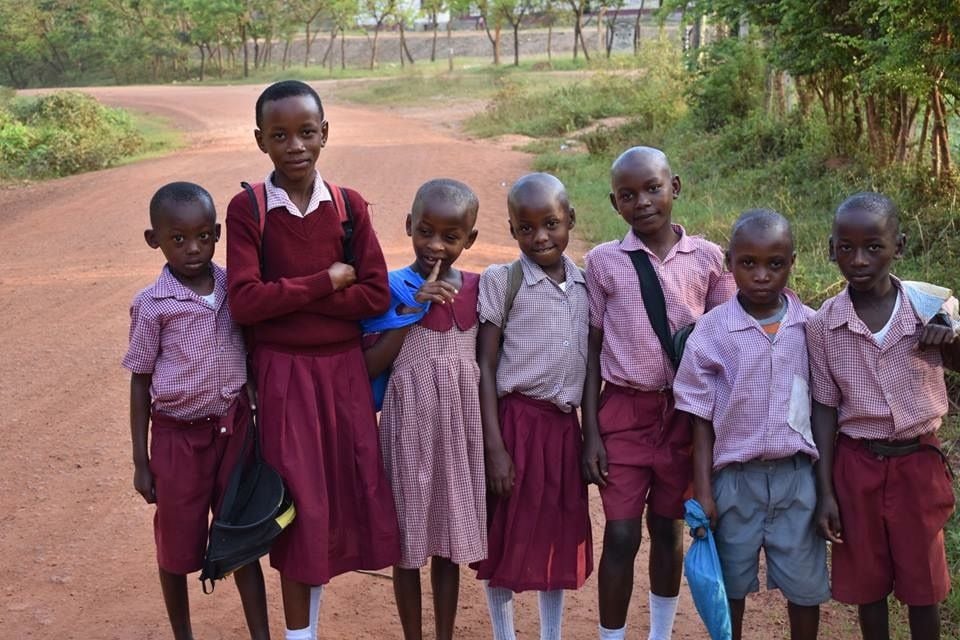 Other news:
Elvis Makonde, brother of Revd. Charles Makonde, is our principal contact with the school in his role as Chairman of the School Feeding and Development Committee.
During August 2018, Elvis suffered an infection in the toes of his left foot resulting in a part amputation. The infection continued to spread and finally Doctors decided that amputation of the leg, just below the knee, was essential.
This operation did fully remove the infection but after some time in hospital the wound healed and Elvis is now back home. We visited him there and he is doing well. Over the next few weeks he hopes to have a prosthetic leg fitted and then commence rehabilitation.
His active involvement has been much missed and we all hope and pray that he will be 'back in action' soon.
Please remember that 100% of donations go to the school projects. All administration and any other running costs are covered by trustees or other generous volunteers.
Angela and Gordon